The Rev. Sarah Robbins, Interim Pastor

Jenny Newman, Director of Christian Education, is a graduate of West Liberty University and is a Certified Christian Educator in the Presbyterian Church (U.S.A.). In 2020, Jenny received a certificate in Youth and Theology from the Institute for Youth Ministry at Princeton Theological Seminary. She joined the Sixth Presbyterian Church staff in 2014 and has worked in children's and youth ministry for over 20 years, previously serving as the director of Christian Education at First Presbyterian Church in Washington, PA. Active in serving her community, Jenny is the co-founder of the non-profit organization the Washington County Gay/Straight Alliance and has served on the Avella Area School District Board of Directors. Jenny lives in the woods of Hopewell Township, Washington County, with her husband, Brant, and their dog and cats, and various woodland creatures.
Dr. Douglas-Jayd Burn, Director of Music, is a native of Richmond, Virginia, and began serious musical study at age 18. He holds degrees in piano performance from the University of Arizona (DMA 2018), the Hartt School (MM 2013), and Virginia Commonwealth University (BM 2007), studying with John Milbauer, David Westfall, and Dmitri Shteinberg respectively.
Douglas enjoys an active career as a pianist and chamber artist, performing across Europe and the United States, including with members of the Zürich Opera Orchestra, Metropolitan Opera Orchestra, and Deutsch Oper Berlin, among many others. He was selected as the Academy Fellow Pianist for the Talis Festival's 2018 and 2019 seasons. He has also performed with Richmond Ballet.
Douglas began serving communities of faith as a musician as a paid tenor at the age of 16, accompanying services for Catholic, Presbyterian, Methodist, Lutheran, and Episcopal churches. He previously served as Director of Music and Organist at the Unitarian Society of Hartford and Chester Presbyterian Church.
When he can, Douglas enjoys riding his motorcycle, stacking Peloton workouts, watching documentaries, and cherishing time with his partner Chelsea and their Boston Terriers Kirby and Winston.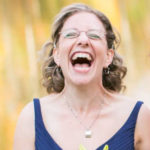 Amy Whipple, Office Manager, is a part-time office manager, part-time writer, and full-time awesome. You can find her behind the desk at Sixth, in publications such as Pittsburgh Magazine, and hanging out with Wee Dude. She's originally from Springfield, Virginia, and moved to Pittsburgh in 2007 to attend Pitt's MFA program. Amy stumbled upon Sixth as part of a Greater Gay Church Tour in 2008. It was the second stop, and—to the dismay of her fellow travelers—she knew she was home. Feel free to check out her writing at amywhipple.com or pay her a visit in the church office; she loves the company.
Harry Kirk, Building Manager
Myra Kazanjian, Parish Associate
John S. McCall, Pastor Emeritus